News
Saw blades for plastics: Three trumps for plastics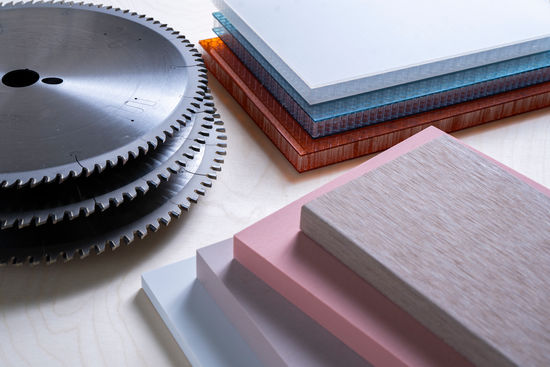 The saw blades designed especially for plastics ensure high quality and a long edge life.

In the detail from left to right: LEUCO plastics, LEUCO Solid Surface, LEUCO g5-System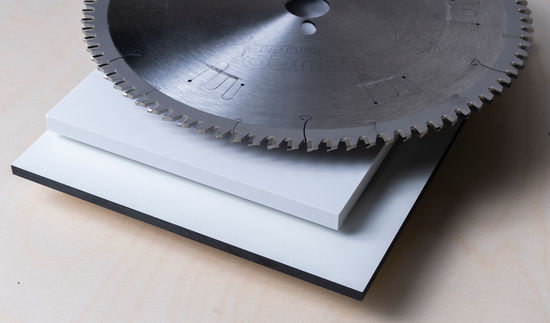 The circular saw blade "Solid Surface" is suitable for HPL and mineral workpiece materials.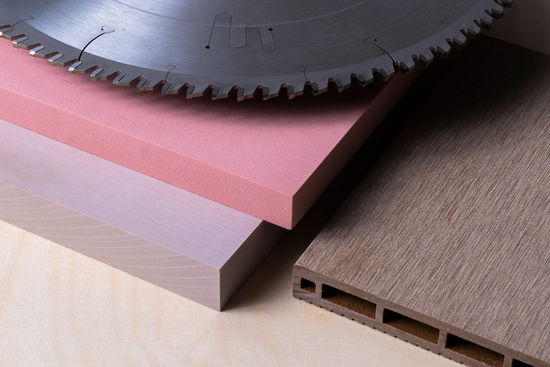 The saw blade for plastic material is, above all, a specialist for many thermoplastics, glass laminate or acrylic glass, e.g. PLEXIGLAS®.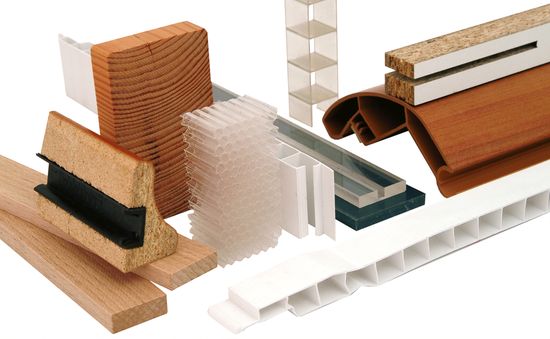 Excellent chop cuts in thin-wall and brittle thermoplastic profiles can be achieved with the "G5" sizing saw blade.
The growing use of plastic panels means that carpenters face new challenges when using a sizing saw. Only saw blades designed especially for plastics ensure high quality and a long edge life. LEUCO offers three circular saw blades that provide a good solution for every type of plastic.
With four circular saw blades, carpenters overcome challenges that arise from the growing use of plastics in furniture and kitchens. After all, plastics have quite different characteristics. For instance, thermoplastics such as polycarbonate and polystyrene easily become too warm and melt when sawed, while thermosets tend to chip.
For use on table saws, vertical panel sizing saws and clipping and miter saws (machine type see description in the online catalog), Leuco recommends:
LEUCO g5 System (Article no. 192794)
The sizing saw blade "G5" provides the highest quality when sawing thin polycarbonate panels, twin-wall sheets, for instance. Lightweight and brittle panels of extruded polystyrene can also be processed very well with this saw blade. They are commonly found as the Danopren and Efyos brands.
Solid Surface (Article no. 193133)
"Solid Surface"is a saw blade designed for hard and abrasive thermosets. Thus, high-pressure laminates (HPL) can be sawed quickly and with high quality with this blade. It is ideally suited for the mineral-based panels known as Solid Surface, after which LEUCO also named this saw blade. Such panels are available under brand names such as Avonite, Corian, Hi-Macs and Varicor.


Anti-fingerprint (Article no. 193195)
This saw blade offers an excellent cutting quality in "anti fingerprint" materials and for conventional plastics. The convex tooth sides prevent the formation of grooves on the cutting surface and flares on the surface of sensible materials.

News Overview
Sep 29, 2021
Cutter with Bore , Shank-Type Cutters , Circular Saw Blades , Clamping Systems , Turnover Knives, Inserts, Knives , Hoggers , LEUCO News
LEUCO review, LIGNA.Innovation Network 2021
Jun 1, 2021
Circular Saw Blades , Tool News
Q-Cut panel sizing saw blades from LEUCO: Best finish-cut quality
Dec 15, 2020
Circular Saw Blades , Tool News
Precise and tear-free miters with the nn-System DP flex
Aug 20, 2020
Boring Bits , Shank-Type Cutters , Circular Saw Blades , Solutions
Milling, drilling, sawing of plastics: tools and application data
Aug 12, 2020
Circular Saw Blades , Tool News
Practical G5 saw blade from LEUCO for joinery centers
Nov 11, 2019
Circular Saw Blades , Tool News
DP panel sizing saw blades with topcoat, extra long edge lives
Nov 8, 2019
Circular Saw Blades , Solutions
Users enthusiastic about diamond-tipped saw blade with topcoat surface layer
To the archive