News
LEUCO DIAMAX AirStream with HSK 32R clamping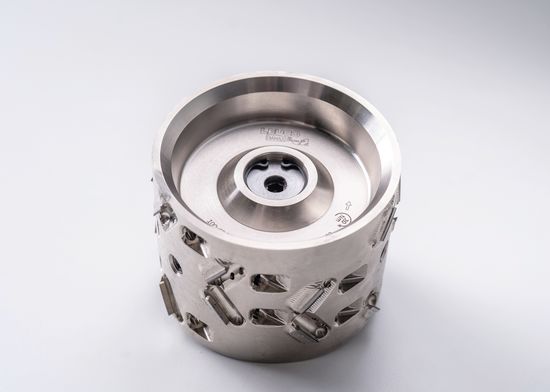 The cutter combines the patented AirStream features, the quality of the LEUCO DIAMAX jointing cutters and the precision of the HSK 32R clamping. The HSK 32R interface with its precise traction and locking function is used for the first time for a jointing cutter.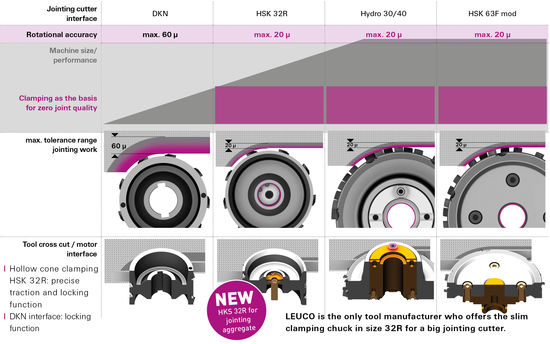 The combination "HSK 32R clamping on jointing aggregates" opens up new dimensions regarding quality in the industrial segment of compact machines.
Team work for an even more precise sizing
Due to the introduction of the precise tool adapter HSK 32R, LEUCO and HOLZ-HER achieve a higher quality during jointing on edge banding machines. For these machines, the enhanced jointing cutter LEUCO DIAMAX AirStream with HSK 32R clamping is now available. This combination guarantee high-precision sizing with standard machines for trade and industry. The new cutter is used for the first time on HOLZ-HER machines.
The latest result of the cooperation between LEUCO and HOLZ-HER is the introduction of the HSK 32R clamping for edge banding machines. Thanks to a combined traction and locking function, these compact tool adapters ensure a concentric accuracy of 20 microns. The conventional clamping by means of a double keyway presents a concentricity deviation of up to 60 microns.
HOLZ-HER is the first machine manufacturer who offers jointing cutters with a high-precision tool adapter for compact machine series. LEUCO succeeded in adapting the big jointing cutter to the slim interface of the size HSK 32R. For this reason, this cost-effective technology is available for the first time for machines usually used in the trade sector.
Clean milling results thanks to efficient chip caption
The main advantage of the DIAMAY AirStream is the high chip caption rate of 99 percent which can be reached thanks to the patented AirStream design jointly developed by a LEUCO and HOLZ-HER. The chips are guided through bores in the gullets into the extraction hood of the machine. The geometries of tool and extraction hood are exactly adapted to each other. That's why machine and tool work perfectly together.
A multiple hogging is almost completely avoided by the high chip caption rate which results in a higher edge life of the cutter. In addition, the machine remains clean for a much longer time. This means less machine downtimes and cleaning work. Especially for edge banding machines, it is very important that there are no chips on the cutting edges. Before glueing, the edges must be completely even and clean.

Another advantage of the DIAMAX AirStream is the smoother running which reduces the noise level by two to three dB compared to other cutters. For this, LEUCO has optimized the flow behavior of the jointing cutter by changing details such as the cutting edges and the gullets The bundling of the air flow in front of the extraction hood by the AirStream design has an additional noise-reducing effect. Due to the combination of these two innovative developments, a new standard for precise, clean and silent jointing is set.
News Overview
Sep 29, 2021
Cutter with Bore , Shank-Type Cutters , Circular Saw Blades , Clamping Systems , Turnover Knives, Inserts, Knives , Hoggers , LEUCO News
LEUCO review, LIGNA.Innovation Network 2021
Feb 2, 2021
Cutter with Bore , Tool News
Program enhancement: SmartJointer for MAN and small series
Nov 6, 2020
Cutter with Bore , Solutions
Finger joints with best wood SCHNEIDER
Quality and service life improved
May 29, 2020
Cutter with Bore , Shank-Type Cutters , Solutions
LEUCO p-System cutters for Austrian top furnitures from Voglauer
Mar 19, 2020
Cutter with Bore , Shank-Type Cutters , Solutions
LEUCO p-System mills inclined profiles
in MDF
Feb 24, 2020
Cutter with Bore , Tool News
Backwall grooves 8.5 mm in one operation on the CNC with groover g5-System
Jan 29, 2020
Cutter with Bore , Tool News
Quick and easy: Exchange cutting inserts with the SmartJointer
To the archive