News
Noise-absorbing double hogger hood - Cleaner and quieter hogging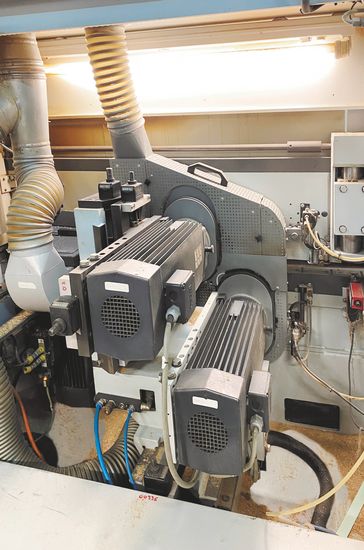 The new double hogger hood can be retrofitted in existing machine lines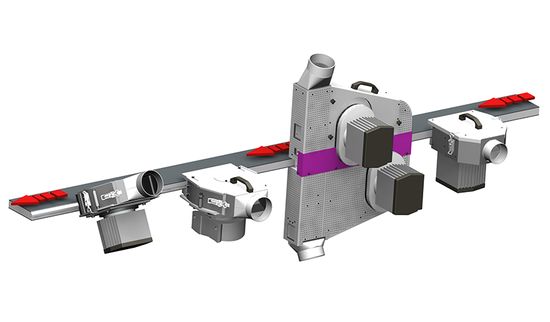 Overview, hood in machine line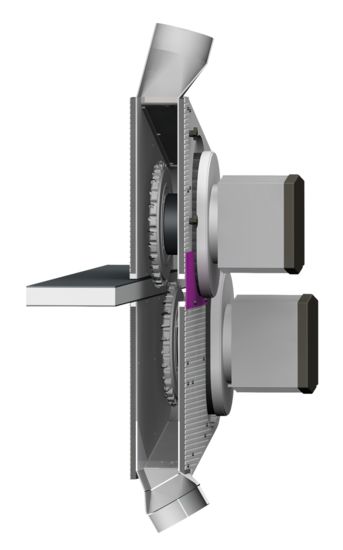 Anchoring of the two-piece hood to the upper pressure beam allows the ideal gap to be set automatically for each panel thick-ness. The sandwich construction with sound-absorbing material reduces noise by 2 to 3 dB.
The new extractor hood for double hogging adjusts automatically to the panel thickness. Efficiency increases and the equipment oper-ates more cleanly and quietly. In addition, optimized extraction increases manufacturing quality.
The new hood from LEUCO is intended for use on double end tenon-ers as well as on large edge banding machines with a double hogger.On such industrial machines, it increases the efficiency of chip capture to a new level. The main reason for this is anchoring of the top hood half to the upper pressure beam, since this varies with a change in workpiece thickness. In this way, the hood always adjusts to the right height in relation to the panel thickness. The result is a constant, narrow gap - ideally about 2 mm between the hood and workpiece - and thus to very efficient extraction.
Extractor hood responds to change in panel thickness
In contrast, common extractor hoods are set permanently to the greatest panel thickness. As a result, the gap width varies between a few millimeters and several centimeters. This variation has conse-quences, since the extraction output drops due to the usually unnec-essarily wide gap, which causes the tool system to become dirty. This makes regular cleaning necessary.Thanks to the consistently narrow gap and resulting maximum effi-ciency of the double hogger hood from LEUCO, the equipment re-mains much cleaner and needs cleaning less frequently.
The two-piece design of the extractor also contributes to reduced chip discharge from this hood: Both the upper and lower housing halves have their own suction connection. They are placed so that the stream of chips generated by the hoggers is directed exactly into the suction openings. As a result, most of the chips are conveyed directly into the extraction system, interfering air flows and deposits in the hood housing are minimized.This reduces double hogging considerably – resulting in higher surface quality and longer tool lives.


Hood housing absorbs operating noise
Because of the tight fit around the processing area, the operating noise of the machine is less pronounced. The sandwich construction of the housing also helps: It consists of two sheet-metal shells with insulating material.This reduces the noise level better than the usual single sheet-metal shell. Combined, these improvements provide a damping factor of 2 to 3 dB, a noise reduction that can be heard clearly.
As a further benefit, the hood contributes to energy savings. Thanks to the narrower gap in the double hogger hood, the hood and hogger form an almost fully enclosed system. This increases efficiency and the hood can contribute to optimization of the energy needs of the extraction system.
News Overview
Jun 1, 2021
Circular Saw Blades , Tool News
Q-Cut panel sizing saw blades from LEUCO: Best finish-cut quality
Feb 2, 2021
Cutter with Bore , Tool News
Program enhancement: SmartJointer for MAN and small series
Dec 15, 2020
Circular Saw Blades , Tool News
Precise and tear-free miters with the nn-System DP flex
Oct 12, 2020
Shank-Type Cutters , Tool News
DP roughing-finishing end mills. For thick panels, use on nesting tables.
Sep 8, 2020
Cutter with Bore , Tool News
LEUCO DIAMAX AirStream with HSK 32R clamping
Aug 19, 2020
Circular Saw Blades , Tool News
Saw blades for plastics: Three trumps for plastics
Aug 12, 2020
Circular Saw Blades , Tool News
Practical G5 saw blade from LEUCO for joinery centers
To the archive