News
Practical G5 saw blade from LEUCO for joinery centers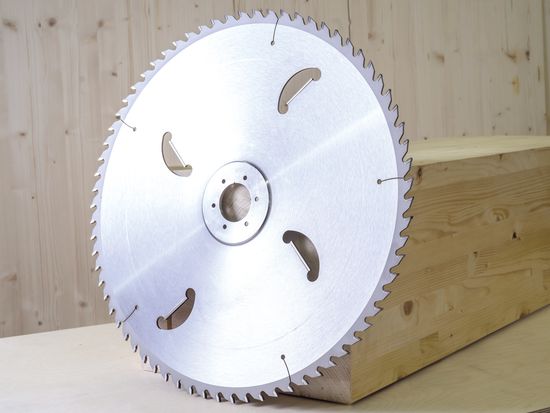 The LEUCO g5-System chop saw blade can be used on joinery centers from all known manufacturers. Image: 550 mm diameter for Weinmann systems.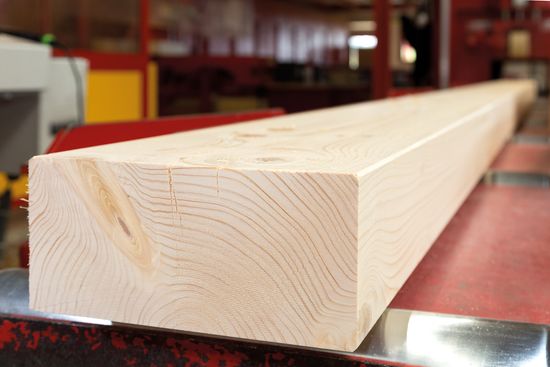 It is not necessary to rework the accurate cuts which can be used as visible edges. With this saw blade, customers can perform operations that previously required a milling cutter. In this way, they save ma-chining time on the joinery center.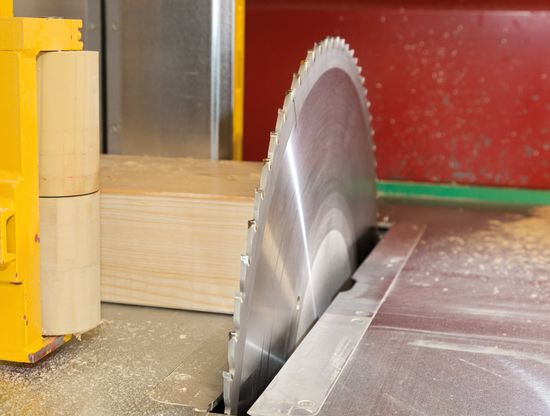 The saw blade offers the benefit of a very low noise level and up to 30% longer service life.
Easier sawing in every direction
By using the G5 saw blade from LEUCO, joinery centers need only one tool when processing beams. The reason can be found in the innovative tooth geometry.
Thanks to LEUCO, joinery centers can eliminate downtime of their machining centers. This is because one saw blade with the G5 tooth geometry is suitable for ripping and cross cuts. After a quick change in direction, the same sawing equipment can continue its work.
Because of the G5 geometry, the saw blade has an extremely low cutting pressure. This has a positive impact. The quality in both cutting directions is very good and rapid feeding is possible with little force. In addition, the saw blade has an up to 30% longer service life.
The low cutting pressure results from the special geometry of the saw blade – a combination of a leading tooth and four consecutive key for fine machining.
The G5 saw blade is thus a very good alternative to conventional machining using two different saw blades. This requires a tool change. Previously, the user had to anticipate up to 15 minutes of downtime to swivel in another unit or change the saw blade.
News Overview
Sep 29, 2021
Cutter with Bore , Shank-Type Cutters , Circular Saw Blades , Clamping Systems , Turnover Knives, Inserts, Knives , Hoggers , LEUCO News
LEUCO review, LIGNA.Innovation Network 2021
Jun 1, 2021
Circular Saw Blades , Tool News
Q-Cut panel sizing saw blades from LEUCO: Best finish-cut quality
Dec 15, 2020
Circular Saw Blades , Tool News
Precise and tear-free miters with the nn-System DP flex
Aug 20, 2020
Boring Bits , Shank-Type Cutters , Circular Saw Blades , Solutions
Milling, drilling, sawing of plastics: tools and application data
Aug 19, 2020
Circular Saw Blades , Tool News
Saw blades for plastics: Three trumps for plastics
Nov 11, 2019
Circular Saw Blades , Tool News
DP panel sizing saw blades with topcoat, extra long edge lives
Nov 8, 2019
Circular Saw Blades , Solutions
Users enthusiastic about diamond-tipped saw blade with topcoat surface layer
To the archive