News
Users enthusiastic about diamond-tipped saw blade with topcoat surface layer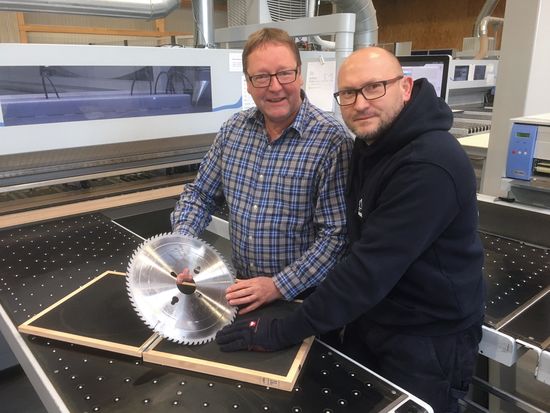 Klaus Müller (left) and Jarek Musial were the first users of this coated saw blade. They are still very satisfied with the long service lives and the rela-tively low noise level.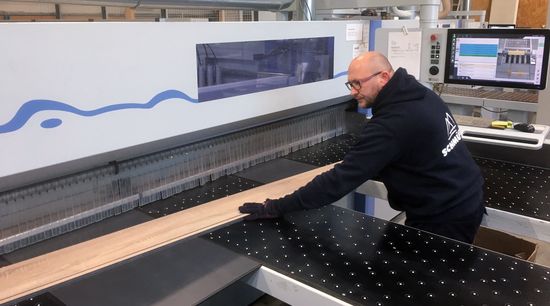 Jarek Musial is an expert in cutting HPL material to size and to precise dimensions.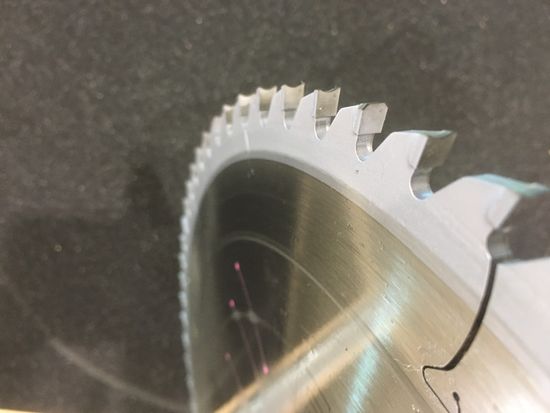 Apart from LEUCO, almost no other manufacturer in this sector offers a combination of diamond-tipped and coated saw blades. SCHMÜSER uses topcoat blades with the HR-TR tooth shape (hollow back, trapezoid). This variant is suitable for sawing HPL panels or solid core material.
Specialist business Jochen SCHMÜSER has changed over to coated DP blades from LEUCO
LEUCO is now offering diamond-tipped panel sizing saw blades with a specialist topcoat surface layer. This guarantees vastly longer edge lives. This is of interest to everyone who works with blank, coated or fiber-based wooden panels. Jochen SCHMÜSER in Hollenstedt finds this topcoat surface layer superb, even with HPL material.

"We have been using these saw blades for the last 3 years. They last 50 percent longer than other comparable diamond-tipped saw blades. They also deliver remarkably good cut quality, as Klaus Müller has found, the Production Manager at Jochen SCHMÜSER. The company saws HPL material on three horizontal panel sizing sawing machines to precise dimensions for the wholesale trade to name just one example. Areas of application for these weather-resistant cut-to-size sections include facade claddings, balcony privacy panels or table tops.
Sawing HPL material is a particularly challenging application. The bene-fits of topcoat also help people who process other materials such as laminated or fiberboard panels. LEUCO has established a family of coated saw blade products that covers all of these areas.
Many benefits
All users can benefit from the many advantages of diamond-tipped and coated blades. These benefits include extremely long service lives, finished cut quality and quiet operation. A topcoat surface layer on the diamond substantially extends what are already long service lives and improves performance per linear meter by a further 50 percent.
Saw cuts with DP topcoat blades are clean and are not corrugated. The blade cuts remarkably smoothly and the user benefits from greater cutting power and cut quality. These benefits are retained throughout the entire life cycle of the saw blade.

No adhesive bonding with HPL
Anyone who saws HPL material has yet another advantage: The topcoat surface layer prevents adhesive bonding from occurring. When sawing with other blades, the resin in the HPL panels can melt, bonding adhesively to the saw blade. This results in frequent tool changes. Also, the saw blade needs to sent away for cleaning or for resharpening. Specialist business Jochen SCHMÜSER has found a solution to this problem. "Previously, we used carbide and diamond-tipped saw blades. There, we encountered adhesive bonding that caused chipping. However, we need very good quality. We therefore went looking for something better. With these topcoat blades, we have precisely what we need", explains Klaus Müller.
Pleasingly quiet in operation
All of these saw blades possess another advantage: They are pleasingly quiet. This is achieved by laser ornaments in the blades, arranged in a special vibration-damping sequence. In addition, these ornaments receive a filling that also damps vibrations in the core blade. Jochen SCHMÜSER uses saw blades with a diameter of 350 mm. "That is now significantly quieter than before", states Klaus Müller. The machine operator who tends the machine on a daily basis also benefits from this. SCHMÜSER really appreciates these many advantages and is so convinced that the company now only uses DP topcoat blades for its HPL saw cuts.
Website "Schmüser Balkon - Wand - Fassade"
See our online catalog for dimensions and further details
News Overview
Jun 1, 2021
Circular Saw Blades , Tool News
Q-Cut panel sizing saw blades from LEUCO: Best finish-cut quality
Dec 15, 2020
Circular Saw Blades , Tool News
Precise and tear-free miters with the nn-System DP flex
Aug 20, 2020
Boring Bits , Shank-Type Cutters , Circular Saw Blades , Solutions
Milling, drilling, sawing of plastics: tools and application data
Aug 19, 2020
Circular Saw Blades , Tool News
Saw blades for plastics: Three trumps for plastics
Aug 12, 2020
Circular Saw Blades , Tool News
Practical G5 saw blade from LEUCO for joinery centers
Nov 11, 2019
Circular Saw Blades , Tool News
DP panel sizing saw blades with topcoat, extra long edge lives
Sep 26, 2019
Boring Bits , Cutter with Bore , Shank-Type Cutters , Circular Saw Blades , Clamping Systems , Solutions
F/LIST from Austria processes sophisticated materials for exclusive interior fittings
Sep 23, 2019
Circular Saw Blades , Tool News
DP sizing table saw blades are worthwhile -
Specialists for all cases.
To the archive