News
Quick and easy: Exchange cutting inserts with the SmartJointer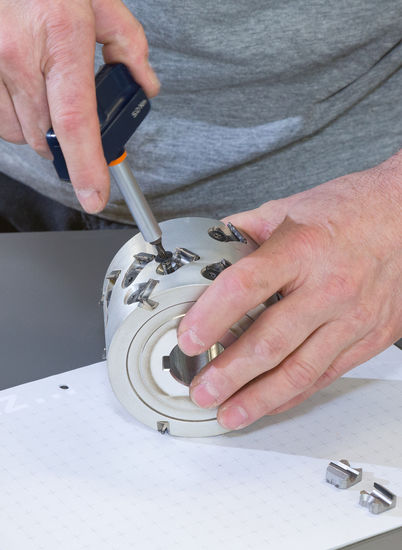 The segment change on the SmartJointer can be done easily, quickly and precisely: an allen key has to be used to loosen the screws of the cutting edges.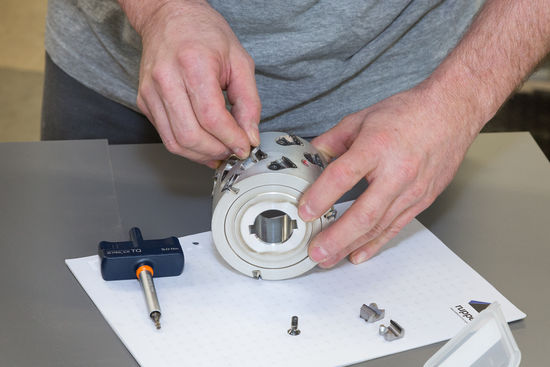 Afterwards the cutting edge is removed, the gullet is cleaned and a new cutting edge is inserted. No special order must be observed.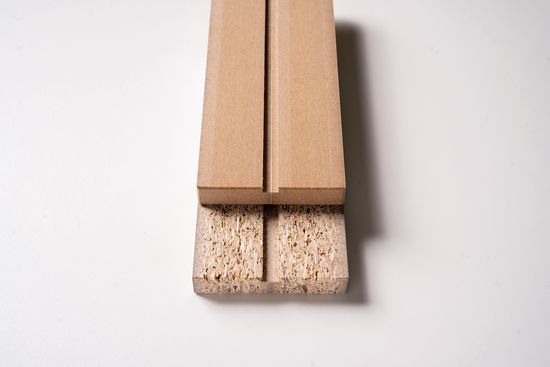 The repeatability is very high. After the cutting edge replacement, the milling quality corresponds to a new tool.
Jointing cutters SmartJointer airFace
Always available

Blunt segments on the jointing cutter SmartJointer by LEUCO can be replaced with sharp ones directly by the user. By this, the tool is available again within the shortest time.
The exchangeable knives of the SmartJointer offer the wood-processing companies the highest degree of flexibility. The segments of the tool can be exchanged quickly and easily. The precise positioning guarantee a constantly high milling accuracy. Due to its highly constant diameter, the SmartJointer can be used immediately after segment replacement without machine adjustment. The replacement of the edges on site also reduces the purchase costs since the user only have to buy one tool or one set of tools per machine.
Just a few easy steps, no special qualification required
The replacement is extremely simple. First the milling tool is cleaned with compressed air and a cleaning spray. The screws of the segments can be unscrewed using an allen key. The use of a torque wrench is sufficient to tighten the inserted screws. Thanks to the 3-point support, the position of the segments on the tool body is exactly predefined. A subsequent balancing of the tool is therefore not required.
Cutting edge and gullet are replaced together
The cutting edges and the gullets are the parts of the milling tool that are most susceptible to wear. Since the edge and the gullet susceptible to wear of the SmartJointer form one constructive unit, they are replaced together. The benefits: Due to the high repeatability of the two elements, the processing quality can be guaranteed in a sustainable manner Furthermore, the weight-saving tool body made of aluminum is almost wear-free. That means that is has a long service life.

Benefits at a glance
The replacement can be done quickly and easily on site
Cutting edge and gullet form one unit
Thanks to the precisely defined fixation, no balancing is requi-red
Only one tool or one set of tools per machine required
Very high diameter consistency, re-adjustment of the machine after the replacement is not required
Lightweight aluminum body with a variety of application possibilities

News Overview
Sep 29, 2021
Cutter with Bore , Shank-Type Cutters , Circular Saw Blades , Clamping Systems , Turnover Knives, Inserts, Knives , Hoggers , LEUCO News
LEUCO review, LIGNA.Innovation Network 2021
Feb 2, 2021
Cutter with Bore , Tool News
Program enhancement: SmartJointer for MAN and small series
Nov 6, 2020
Cutter with Bore , Solutions
Finger joints with best wood SCHNEIDER
Quality and service life improved
Sep 8, 2020
Cutter with Bore , Tool News
LEUCO DIAMAX AirStream with HSK 32R clamping
May 29, 2020
Cutter with Bore , Shank-Type Cutters , Solutions
LEUCO p-System cutters for Austrian top furnitures from Voglauer
Mar 19, 2020
Cutter with Bore , Shank-Type Cutters , Solutions
LEUCO p-System mills inclined profiles
in MDF
Feb 24, 2020
Cutter with Bore , Tool News
Backwall grooves 8.5 mm in one operation on the CNC with groover g5-System
To the archive