News
First subsidiary in Vietnam. LEUCO opens service centre.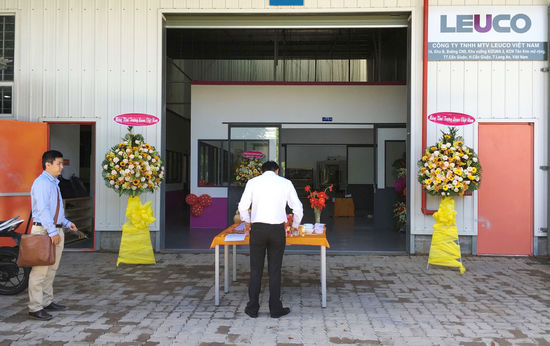 The official opening of LEUCO started with prayer offerings for luck and blessings.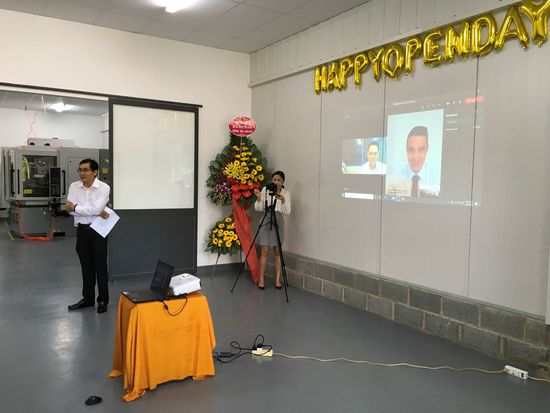 Mark Lim (Managing Director LEUCO Vietnam, video wall on the left) and Udo Leiber (Managing Director LEUCO Asia, right) joined the opening via video conference.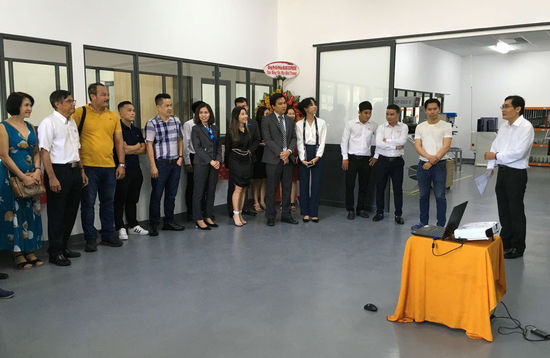 Mrs. an Mr. Hung (Managing Director LEUCO Sales Partner U.R.I, 1st and 2nd from left) was present with some customers and business associates.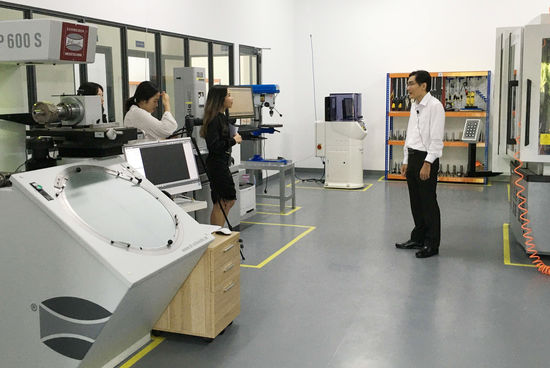 Mr. Khanh being interviewed by Kizuna on our innovative machinery and set up.
In Kizuna, near Ho Chi Minh City in the south of Vietnam, the LEUCO Service Center was built in the past few months using state-of-the-art technology. On 24 September 2020, the recently founded company "LEUCO Vietnam Co, Ltd" was officially opened with a ceremony in a pandemic-proof setting.

The new company in Vietnam is an important pillar of LEUCO's international presence, emphasized LEUCO Managing Directors Frank Diez and Daniel Schrenk in their video message from Horb at the opening. "Setting up a subsidiary, training a new team and familiarizing it with the requirements is always a challenge," said Diez and warmly welcomed the new employees at LEUCO.

Udo Leiber, Managing Director of LEUCO Asia, described the impressive growth in volume and technical requirements of Vietnam's wood and furniture industry in recent years. This growth was the driving force behind the foundation of the LEUCO subsidiary. "We can now offer the industry comprehensive tool service locally in Vietnam in the future," said Leiber.

LEUCO Vietnam Managing Director Mark Lim, in his speech, which was transmitted via video conference, thanked the team on site for their commitment, which set up the service centre under exceptional circumstances. In particular, he thanked the guest of honour Mr. Hung, Managing Director of LEUCO's long-standing sales partner U.R.I Trading in Vietnam, who was always ready to lend a helping hand to provide the local support whenever needed.

During the subsequent tour, branch manager Mr. Khanh showed the guests how a sharpening service cycle is carried out and which machinery is available to the LEUCO Vietnam team for this purpose.

Sin chào! LEUCO is pleased to now offer Vietnamese customers on site comprehensive, innovative service for diamond tipped tools according to the motto "Tools like NEW":

LEUCO Vietnam Co., Ltd
KIZUNA 3, Long An Province
VN Ho Chi Minh City
T +84 272 3715838
leucovn@leuco.com

News Overview
Dec 16, 2020
LEUCO News
Congratulations:
25th anniversary of LEUCO Japan
Sep 4, 2020
LEUCO News
Video interview: CEO Daniel Schrenk with Wood & Panel
Feb 7, 2020
LEUCO News
LEUCO expands at its Beinheim/ France
location
Jan 22, 2020
LEUCO News
Groundbreaking for the new
ServiceCenter
Nov 5, 2019
LEUCO News
Grand opening, the new building at Leuco Tool, Villa Rica, GA, USA
Oct 21, 2019
LEUCO News
Company honors 1,120 years of LEUCO experience
Sep 24, 2019
LEUCO News
50 years LEUCO in Switzerland
Innovation close to the customer
Jul 23, 2019
LEUCO News
LeucoBelRus is celebrating its 10th anniversary
Quality tools = quality service!
To the archive