News
Clockwise and counter-clockwise rotation with a single cutter Z=2+2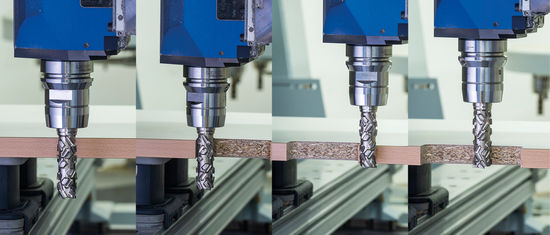 Insert milling is a classic application for the new clockwise/counterclockwise router: Routing with the upper, clockwise-rotating cutting segment with a conventional cut. Then raising the spindle in the Z-direction, followed by reversing the direction of rotation to the counterclockwise direction. Routing with a conventional cut from the right side with the lower, counterclockwise-rotating cutting segment.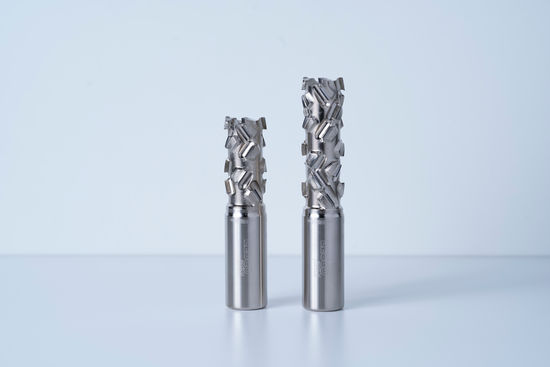 The new router bit generation is available in two sizes from stock. One version for processing material thicknesses up to 19 mm, another for thicker material up to 32 mm.
DP DIAREX combination shank-type router bits
LEUCO introduces two new combination shank-type router bits with clockwise/counter-clockwise rotation for sizing and joining of panel materials on CNC machines with console tables. The shank-type router bits have both a counter-clockwise rotating and clockwise rotating cutting segment, each of which can be used by shifting along the Z-axis and changing the direction of rotation.
When routing workbench board corner connections in particular, this guarantees chip-free cutting of the visible edge by routing both sides with a conventional cut using only one router bit.
The customer thus no longer needs two separate tools, saves the time associated with a complete tool change and, in addition, gains a free location on the tool changer.
The proven DIAREX cutting edge geometry with large opposite shear angles ensures exceptionally clean edges even in the case of fragile coatings. Thanks to the compact design of the base body, the router bit provides high stability, ensuring smooth running.
News Overview
Sep 29, 2021
Cutter with Bore , Shank-Type Cutters , Circular Saw Blades , Clamping Systems , Turnover Knives, Inserts, Knives , Hoggers , LEUCO News
LEUCO review, LIGNA.Innovation Network 2021
Sep 22, 2021
Shank-Type Cutters , Tool News
LEUCO t3-System cutters with triangular turnover knife inserts
Feb 18, 2021
Boring Bits , Shank-Type Cutters , Solutions
LEUCO Tool Alternatives for the New LAMELLO® Cabineo Connector
Dec 4, 2020
Shank-Type Cutters , Solutions
Holzmanufaktur Schlanke produces Advent calendars with LEUCO cutters
Oct 12, 2020
Shank-Type Cutters , Tool News
DP roughing-finishing end mills. For thick panels, use on nesting tables.
Aug 20, 2020
Boring Bits , Shank-Type Cutters , Circular Saw Blades , Solutions
Milling, drilling, sawing of plastics: tools and application data
May 29, 2020
Cutter with Bore , Shank-Type Cutters , Solutions
LEUCO p-System cutters for Austrian top furnitures from Voglauer
To the archive