News
DP sizing table saw blades are worthwhile -
Specialists for all cases.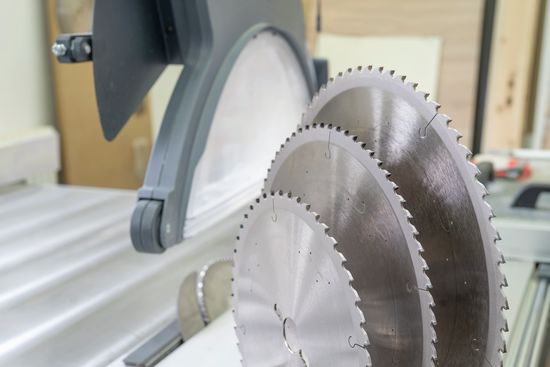 DIAREX HR (right) is the all-rounder, suitable for universal applications. Recommended for wood fiberboard panels, abrasive and hard plastics such as CRP or GRP as well as magnet bond boards. DIAREX DA-F-FA saw blades (center) can achieve finish-cut quality on melamine-laminated or HPL-laminated wood-based panels. DIAREX TR-F-FA (left) was designed for raw particle boards and MDF. This enables LEUCO to provide a suitable variant of DIAREX saw blade for any requirement. An investment that is worth making.
Despite the fact that they cost more to purchase than HW tools, it also makes sound financial sense to use DIAREX DP saw blades on table saws and on vertical panel sizing saws.
Over the long term, these are the more cost-effective option and score highly by achieving 20 times the service life of their less expensive counterparts. Throughout this time, the operator never needs to be concerned with blunt saw blades, with all the replacement and changeover times that they entail. This makes work simpler, it cuts down on scrap, and it saves time.
A new and improved level of cutting quality is achieved by DIAREX DP saw blades with their special grain size. This unusually fine-grained version enables sharper edges to be cut. Parts can be cut to size in finish-cut quality. With optimized gullets, DIAREX saw blades cut more quietly than previous types. This reduction in the noise level creates a more pleasant working atmosphere.
On each of the three types of DIAREX saw blade, LEUCO uses different grades of diamond which are matched to suit the field of application and the tooth geometry. The tooth geometries are optimized in terms of number, shape and combination of teeth.
See our online catalog for dimensions and further details
all-rounder for universal applications, recommended for wood fiberboard panels, abrasive and hard plastics such as CRP or GRP as well as magnet bond boards: DIAREX HR-FA

finish-cut quality on melamine-laminated or HPL-laminated wood-based panels: DIAREX DA-F-FA
for raw particle boards and MDF: DIAREX TR-F-FA
News Overview
Sep 29, 2021
Cutter with Bore , Shank-Type Cutters , Circular Saw Blades , Clamping Systems , Turnover Knives, Inserts, Knives , Hoggers , LEUCO News
LEUCO review, LIGNA.Innovation Network 2021
Jun 1, 2021
Circular Saw Blades , Tool News
Q-Cut panel sizing saw blades from LEUCO: Best finish-cut quality
Dec 15, 2020
Circular Saw Blades , Tool News
Precise and tear-free miters with the nn-System DP flex
Aug 20, 2020
Boring Bits , Shank-Type Cutters , Circular Saw Blades , Solutions
Milling, drilling, sawing of plastics: tools and application data
Aug 19, 2020
Circular Saw Blades , Tool News
Saw blades for plastics: Three trumps for plastics
Aug 12, 2020
Circular Saw Blades , Tool News
Practical G5 saw blade from LEUCO for joinery centers
Nov 11, 2019
Circular Saw Blades , Tool News
DP panel sizing saw blades with topcoat, extra long edge lives
Nov 8, 2019
Circular Saw Blades , Solutions
Users enthusiastic about diamond-tipped saw blade with topcoat surface layer
Sep 26, 2019
Boring Bits , Cutter with Bore , Shank-Type Cutters , Circular Saw Blades , Clamping Systems , Solutions
F/LIST from Austria processes sophisticated materials for exclusive interior fittings
To the archive