News
Company honors 1,120 years of LEUCO experience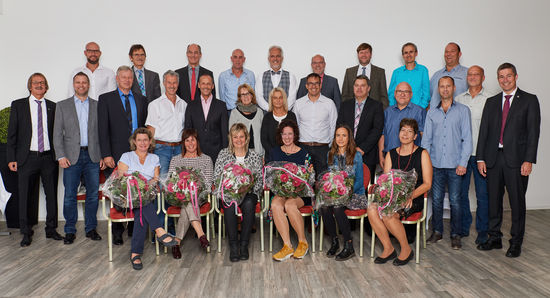 Not fewer than 42 employees with a period of employment between ten and 40 years were honored, received gifts and were awarded certificates at LEUCO's traditional anniversary celebration. The company bade farewell to three employees who earned a well-deserved retirement.
Every beginning has something magical about it - but the secret to success lies in what follows
At the invitation of the management, 42 employees celebrated their anniversary at LEUCO. Three employees retired. On September 30, 2019, the employees celebrating an anniversary and retiring employees gathered in a festively adorned "magenta-toned hall in the reception area".

The anniversary celebration is always a regular event in the LEUCO calendar, a tradition – a bit of LEUCO corporate culture. Nevertheless, it is always a challenge not only to maintain appearances, but also to give all participants a setting where they can reflect on their common achievements and take along valuable stimuli for the future of the company, stated LEUCO CEO Frank Diez at the beginning of the celebration. He then gave Daniel Schrenk, Director of Sales and Marketing, an opportunity to speak.

Schrenk praised the noteworthy successes of the anniversary celebrants and retiring employees that were achieved in recent years together with the company's entire workforce worldwide – in many cases over several decades. These common achievements provide the basis, and are actually essential, for the success of LEUCO as a company - especially under the difficult conditions of this year.

As is so often the case, every beginning has something magical about it, and then shortly before reaching the finish line all forces have to be mobilized once more. Schrenk used this comparison from long-distance running to focus his core message on the great challenge at the midpoint - not to slow down or lessen efforts.
In his laudatory speech, he emphasized that the knowledge, capabilities, know-how and not least the personality of each individual celebrating an anniversary, as well as all colleagues worldwide, are of elementary importance for the company's success, especially in this difficult phase. Mutual support and motivation in the right spirit, not a know-it-all attitude, are what yield the right result and in turn long-term competitiveness in the worldwide market.

LEUCO stands for innovation, precision, quality and reliability. We must constantly respond to changing conditions in order to fulfill these qualities. Ever shorter innovation cycles and changes in the market, competitive surroundings or technology force rapid rethinking and response. We understand these things, said Schrenk, and together we will continue to do what is necessary to remain successful and future oriented. All staff members are called upon to engage in this process openly and constructively.
An unmistakable sign of identifying with a company is truly the period of employment – this was the starting point to recognize and honor the anniversary celebrants and retiring employees individually. From their faces, it was obvious that Frank Diez and Daniel Schrenk enjoyed this part of the celebration as they alternately sketched each individual career path, spoke with each person celebrating an anniversary and in this way took all guests on an exciting journey through the history of LEUCO. Each of the stories was like a small mosaic stone that helped to complete the large puzzle - the history of LEUCO.
With a personal "thank you" and a small gift for each, the two managing directors underscored the value that LEUCO appreciates in the many years of commitment from its honored and retiring employees. Many anecdotes and stories accompanied the festive dinner that followed.
10-year honors
Doreen Schmitt; Evgeny Bogomolov; Hans Dieter Pamp; Kristin Valente
20-year honors
Björn Blum; Günter Brandl; Tilo Brunner; Mathias Enderle; Oliver Galli; Olaf Lange; Manuela Hennecke; Andreas Hug; Andreas Kammermeier; Josef Krasniqi; Robert Rittmeier; Bernd Steimle; Uwe Hennecke
25-year honors
Marco Dettling; Jürgen Meyer; Martina Poppitz; Adolf Rotter
30-year honors
Manfred Feiertag; Joachim Fischer; Nikolaus Eder; Hartmut Neubert-Denn; Manuela Eberhardt; Ines Calmbach; Bernd Hamann; Ingrid Bok; Günther Burster; Werner Sitzler; Erika Ade; Wilhelm Brindle
40-year honors
Wolfgang Beiter; Günther Hellstern; Horst Kocheisen; Angelo Vidic; Rudolf Tüllmann-Schröter; Elisabeth Illhardt; Joachim Schiwy; Mehmet Celikkaya; Josef Kronenbitter
Retirements
Siegfried Fais; Josef Kronenbitter; Angelo Vidic

News Overview
Mar 12, 2021
LEUCO News
Ellen Teh and Mark Lim: New Management Board of LEUCO Malaysia
Dec 16, 2020
LEUCO News
Congratulations:
25th anniversary of LEUCO Japan
Oct 9, 2020
LEUCO News
First subsidiary in Vietnam. LEUCO opens service centre.
Sep 4, 2020
LEUCO News
Video interview: CEO Daniel Schrenk with Wood & Panel
Feb 7, 2020
LEUCO News
LEUCO expands at its Beinheim/ France
location
Jan 22, 2020
LEUCO News
Groundbreaking for the new
ServiceCenter
Nov 5, 2019
LEUCO News
Grand opening, the new building at Leuco Tool, Villa Rica, GA, USA
To the archive