News
LEUCO expands at its Beinheim/ France
location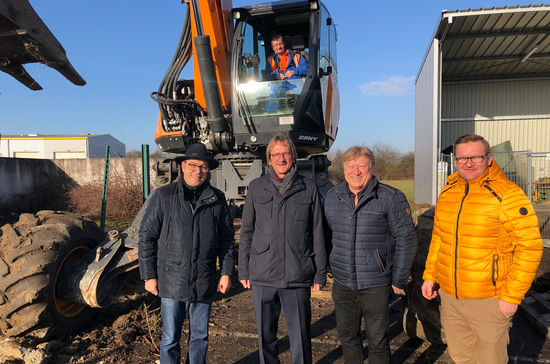 Pascal Wendel (Manager Industrial Engineering), Frank Diez (Chairman of the Management Board), Mark Meyer (Production Manager) and Luc Schildknecht (Production Manager), from left to right, began the work for the expansion project in Beinheim / France with the symbolic first spadeful of dirt.
The recent sunny weather in February only increased to joy of starting a new construction project among all participants at the Beinheim location. For more than 45 years, LEUCO has produced saw blades at Beinheim in France. Because of the limited space, an expansion was urgently needed, so the Management Board decided to proceed with an expansion project.

With the newly started construction, Frank Diez, Chairman of the Management Board, showed a clear commitment to the production site in Beinheim: "We are glad to have the opportunity to enlarge the existing facility. Our production, service and sales locations provide the basis for the worldwide success of LEUCO in the market. This applies in particular to Beinheim. More than 1 million high-quality saw blades are produced here annually."

At Beinheim in Alsace, LEUCO specializes in the development and production of saws, finger joint cutters and brazed carbide-tipped milling cutters. A large production hall and warehouse 2,000 square meters in size is being built on the existing property; completion is planned for October of this year. The new building will be joined to existing manufacturing to ensure a smooth expansion of production operations.
News Overview
Dec 16, 2020
LEUCO News
Congratulations:
25th anniversary of LEUCO Japan
Oct 9, 2020
LEUCO News
First subsidiary in Vietnam. LEUCO opens service centre.
Sep 4, 2020
LEUCO News
Video interview: CEO Daniel Schrenk with Wood & Panel
Jan 22, 2020
LEUCO News
Groundbreaking for the new
ServiceCenter
Nov 5, 2019
LEUCO News
Grand opening, the new building at Leuco Tool, Villa Rica, GA, USA
Oct 21, 2019
LEUCO News
Company honors 1,120 years of LEUCO experience
Sep 24, 2019
LEUCO News
50 years LEUCO in Switzerland
Innovation close to the customer
Jul 23, 2019
LEUCO News
LeucoBelRus is celebrating its 10th anniversary
Quality tools = quality service!
To the archive