News
Chip optimized processing
on stationary routers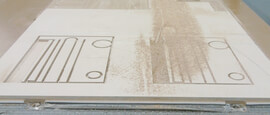 Comparison remaining chip quantities when nesting: on the left with CM shank-type cutter and AEROTECH, on the right: Standard Nesting shank-type cutter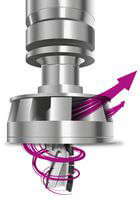 The chip extraction turbine AEROTECH Universal allows the use of shank diameters from 6 to 16 mm.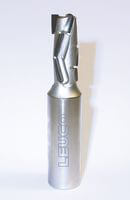 The "Lord of the chips" is characterized by maximum gullet size designed to optimize the chip flow.
"Lord of the chips"
Perfect match for chip optimized processing on stationary routers:
Tools: "LEUCO ChipMeister (CM)" and
Extraction turbine: "AEROTECH Universal"
Long edge lives, excellent cutting quality in the top layers and on the edges com-bined with high economic efficiency. These are the demands on high performance shank-type cuttes.
The cutting edges and the gullets of a high performance shank-type cutter have to be designed in a way to make sure that the chips created during the hogging process are mostly lead upwards in the direction of the dust extraction. However, it has to be ensured that the optimization of the chip caption degree is not reached at the expense of the edge quality of the workpiece.


In this case, the "CM" cutter concept developed by LEUCO takes effect. CM stands for "Chip Meister", casually formulated "Lord of the chips".
This version of high performance shank-type cutters specially designed for optimized chip removal with mostly positive spiral leads chips upwards in a more efficient and unobstructed way than conventional cutters do
By means of this measure the chip caption degree could be considerably improved.
The worse chips which are created by milling are transported through the cutting gap - especially in the case of dividing cuts (Nesting!), the bigger is the effect of double hogging. This inevitably leads to increased heat development and thus accelerates the blunting of the tool. The CM cutting edge and gullet design improves upward chip transport and keeps the tool cooler.as Werkzeug kühler.
This means increased edge lives, increased machine availability and at the same time excellent workpiece quality. The advantages for the customers are increased productivity and economic efficiency of the machine.
 Clean environment thanks to the chip turbo
Another step to optimize the whole system of CNC operators is made by the use of the AEROTECH Universal. The turbine-like clamping and chip removal system fun-nels the chips lead upwards by the CM cutter and guides them through integrated openings to the dust extraction of the machine.
The impressive effectiveness of the system is shown by the small quantity of chips remaining on the workpiece or in the cutting gaps. In addition, the cooling effect which is created has a positive effect on the edge lives of the tools.
The special features of the AEROTECH take effect particularly in Nesting processes but also in the case of chip- and dust-intensive processes such as in series production of shutter grooves, door fillings, pockets in stair stringers, grooves or pockets in acoustic panels, milling of MDF or machining of Eternit panels.
News Overview
Jul 1, 2022
Boring Bits , Shank-Type Cutters , Tool News
A tool for every application, flexibility as standard
Dec 6, 2021
Shank-Type Cutters , Clamping Systems , Solutions
Nesting of solid core panels: Application data and tips
Sep 29, 2021
Cutter with Bore , Shank-Type Cutters , Circular Saw Blades , Clamping Systems , Turnover Knives, Inserts, Knives , Hoggers , LEUCO News
LEUCO review, LIGNA.Innovation Network 2021
Sep 22, 2021
Shank-Type Cutters , Tool News
LEUCO t3-System cutters with triangular turnover knife inserts
Feb 18, 2021
Boring Bits , Shank-Type Cutters , Solutions
LEUCO Tool Alternatives for the New LAMELLO® Cabineo Connector
Dec 4, 2020
Shank-Type Cutters , Solutions
Holzmanufaktur Schlanke produces Advent calendars with LEUCO cutters
Oct 12, 2020
Shank-Type Cutters , Tool News
DP roughing-finishing end mills. For thick panels, use on nesting tables.
Aug 20, 2020
Boring Bits , Shank-Type Cutters , Circular Saw Blades , Solutions
Milling, drilling, sawing of plastics: tools and application data
To the archive